Objective:
Translational Research on Traditional Oriental and Contemporary Western Medicines
Staffs:
Specially-appointed professor
Students
Joint Researchers
| | | |
| --- | --- | --- |
| Fengmin ZHANG | Dean, College of Basic Medical Science, Harbin Medical University, China | Ph.D. M.D. |
| Mohamed MORSY | Associate Professor, Faculty of Medical Science, El-Minia University, Egypt | Ph.D. |
| Jian MA | Dean, College of Basic Medical Science, University of Nanjing Traditional Chinese Medicine, China | Ph.D. M.D. |
| Kwang Chul KIM | Professor, Faculty of Medical Science, Temple University, USA | Ph.D. |
concept:
The concept of "Mibyou" (presymptomatic disease) is that one's physical condition is a delicate balance between health and disease. This concept is derived form the ancient China culture. For Western medicine, Mibyou can be applied to diabetes, hypertension, hyperuricemia, hyperlipemia, fatty liver and other common diseases of modern society. It is now clear that the symptoms of Mibyou are closely related to lifestyle habits, aging, stress and environmental problems. In the 21st century, treatment of Mibyou by medical self-care seems likely to be more important than established medical cures. One of the most important prerequisites for the effective control of Mibyou is education of medical professionals and citizens. Consequently, we are carrying out translational research on traditional medicine (Kampo medicine) and health supplements using contemporary scientific techniques.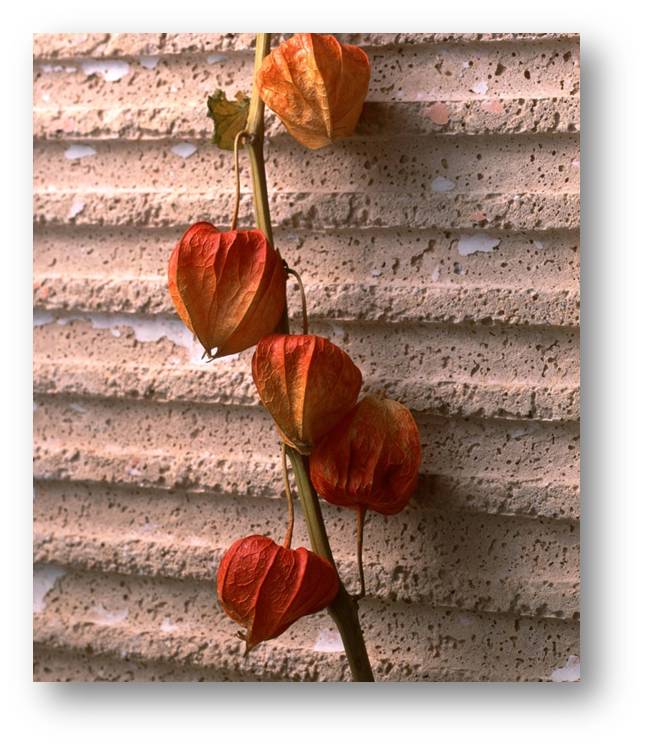 A lantern plant shows ubiquitous pharmacological activities. We have found the plant has significant antitussive action.
Research Projects:
Characterization of molecular mechanisms of actions of traditional oriental herbal medicines and health supplements.

In vivo and in vitro evaluation of efficacy of crude drugs in inflammatory animal models.
Molecular pharmacology of isolated bioactive constituents.

Development of preventative and therapeutic agents for herpetic disease.
Development of preventative and therapeutic agents for infectious nonbacterial gastroenteritis.
Awards:
Prize from Medical and Pharmaceutical Society for WAKAN-YAKU, Japan (2005)
Academic award from Pharmaceutical Society of Japan (2003)
Academic award from Japanese Society for Oriental Medicine (2000)
Prize from the Society for Chinese-Western Combination Medicine, China (1993)
Publications:
New spirostanol glycosides from Solanum nigrum and S. jasminoides. J Nat Med. 66, 658-663 (2012).
7種漢方成分含有健康飲料の安全性と作用の医薬学検査. 医学検査. 61, 541-547 (2012).
Molecular Symmetry and Biological Activities of New Symmetrical Tris(2-aminoethyl)amine Derivatives. Chem Pharm Bull. 60, 408-414 (2012).
Low Direct Cytotoxicity of Loxoprofen on Gastric Mucosal Cells. Biol Pharm Bull. 33, 398-403 (2010).
HSP70 inducers from Chinese herbs and their effect on melanin production. Exp Dermatol. 19, 340-342 (2010).
Glycyrrhizin Attenuates Mucus Production by Inhibition of MUC5AC mRNA Expression In Vivo and In Vitro. J Pharmacol Sci. 113, 76-83 (2010).
Internalization of MUC1 by anti-MUC1 antibody from cell membrane through the macropinocytotic pathway. Biochem Biophys Res Commun. 388, 677-682 (2009).
Tumor necrosis factor-alpha decreases aquaporin-3 expression in DJM-1 keratinocytes. Biochem Biophys Res Commun. 387, 564-568 (2009).
Estrogenic activities of Fatty acids and a sterol isolated from royal jelly. Evid Based complement Alternat Med, 5, 295-302 (2008).
Glycyrrhizin inhibits interleukin-8 production and nuclear factor-kappaB activity in lung epithelial cells, but not through glucocorticoid receptors. J Pharmacol Sci, 106, 460-468 (2008).
Synthesis and Antiviral Activities of N-Mono- and/or N,N'-Di-Carbamoyl and Acyl Derivatives of Symmetrical Diamines. Chem Pharm Bull, 56, 1052-1058 (2008).
The Signaling Pathway Involved in Neutrophil Elastase-Stimulated MUC1 Transcription. Am J Respir Cell Mol Biol. Am J Physiol Lung Cell Mol Physiol. 37, 691-698 (2007).
TNF-alpha induces MUC1 gene transcription in lung epithelial cells: its signaling pathway and biological implication. 293, 693-701 (2007).
N-monocarbamoyl derivatives of symmetrical diamines with antiviral activity. Chem Pharm Bull. 55, 1406-1411 (2007).
Nitric oxide decreases cell surface expression of aquaporin-5 and membrane water permeability in lung epithelial cells. Biochem Biophys Res Commun. 354, 579-584 (2007).
Pharmacological basis of traditional medicines and health supplements as curatives. J Pharmacol Sci. 103, 127-131 (2007).
The role of CpG methylation in cell type-specific expression of the aquaporin-5 gene. Biochem Biophys Res Commun. 353, 1017-1022 (2007).
N-long-chain monoacylated derivatives of 2,6-diaminopyridine with antiviral activity. Chem Pharm Bull. 55, 111-114 (2007).
A broad anti-viral neutral glycolipid, fattiviracin FV-8, is a membrane fluidity modulator, Cell Microbiol. 9, 196-203 (2007).
Copyright(C)2013 Mibyou Yakugaku all rights reserved.